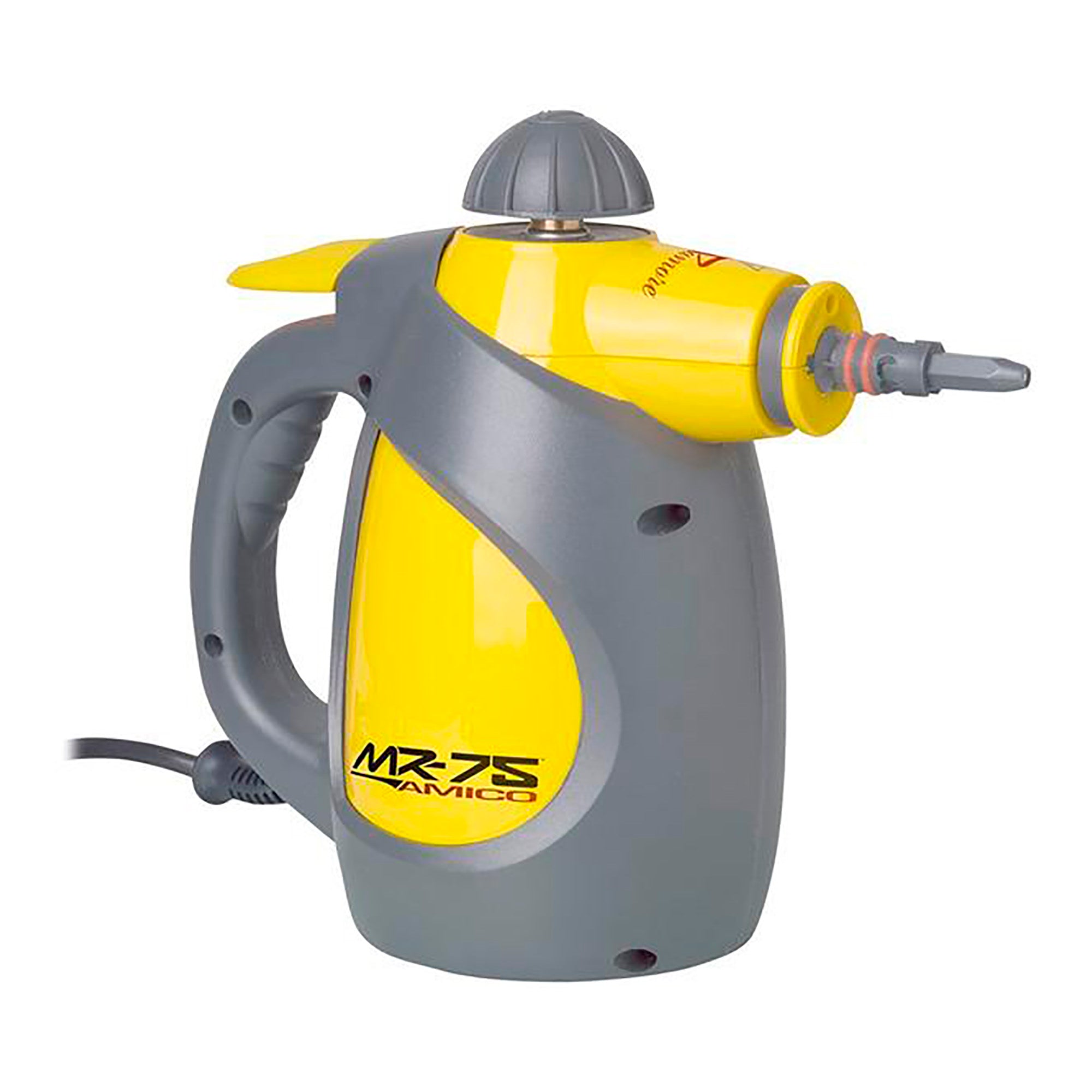 Vapamore MR-75 Amico Steam Cleaner. Small Hand Held Design for Better Steam Control, Fast Heat Up Time, Multipurpose, Chemical Free, Includes 17 Tools and Accessories
SKU: MR-75
---
Vapamore MR-75 Amico Hand Held Steam Cleaner
LIFETIME WARRANTY

 

- To illustrate our commitment to quality, each machine (not just the boiler) carries a complete lifetime warranty against manufacturer defects. We also offer USA based phone and email support.
HAND HELD PORTABILITY

 

- Small and compact weighing in under 3 lbs for easy use to handle quick jobs around the house, office, auto and more.
ULTRA FAST PERFORMANCE

 

- The Vapamore Amico offers a heavy-duty 1000 watt heating element capable of bringing the steamer up to 210 Degrees Fahrenheit with an ultra quick heat up time to be ready for any job in a flash.
CHEMICAL-FREE CLEANING

 

- The Vapamore Amico Hand Held Steamer uses just water allowing you to clean your home without the need for harsh and expensive chemicals. The Amico makes cleaning simple in areas such as bathrooms, kitchens, and automotive.
VARIETY OF ATTACHMENTS

 

- Exchanging attachments is easy with over 15 accessories and attachments tools, the Amico Hand Held Steamer has what you need to get the job done right.


What's Included
• Steam Hose & Connector
• Accessory Tool Adapter
• Jet Nozzle
• Detail Scraper
• Nylon Brush Straight
• Nylon Grout Brush
• Nylon Medium Duty Brush
• Large Nylon Brush
• Small Brass Brush
• Large Brass Brush
• Large Stainless Steel Brush
• Fabric Steamer & Squeegee
• Cotton Cover X 3
• Measuring Cup
• Carrying Case
• Accessory Storage Bag
This product has no reviews yet.