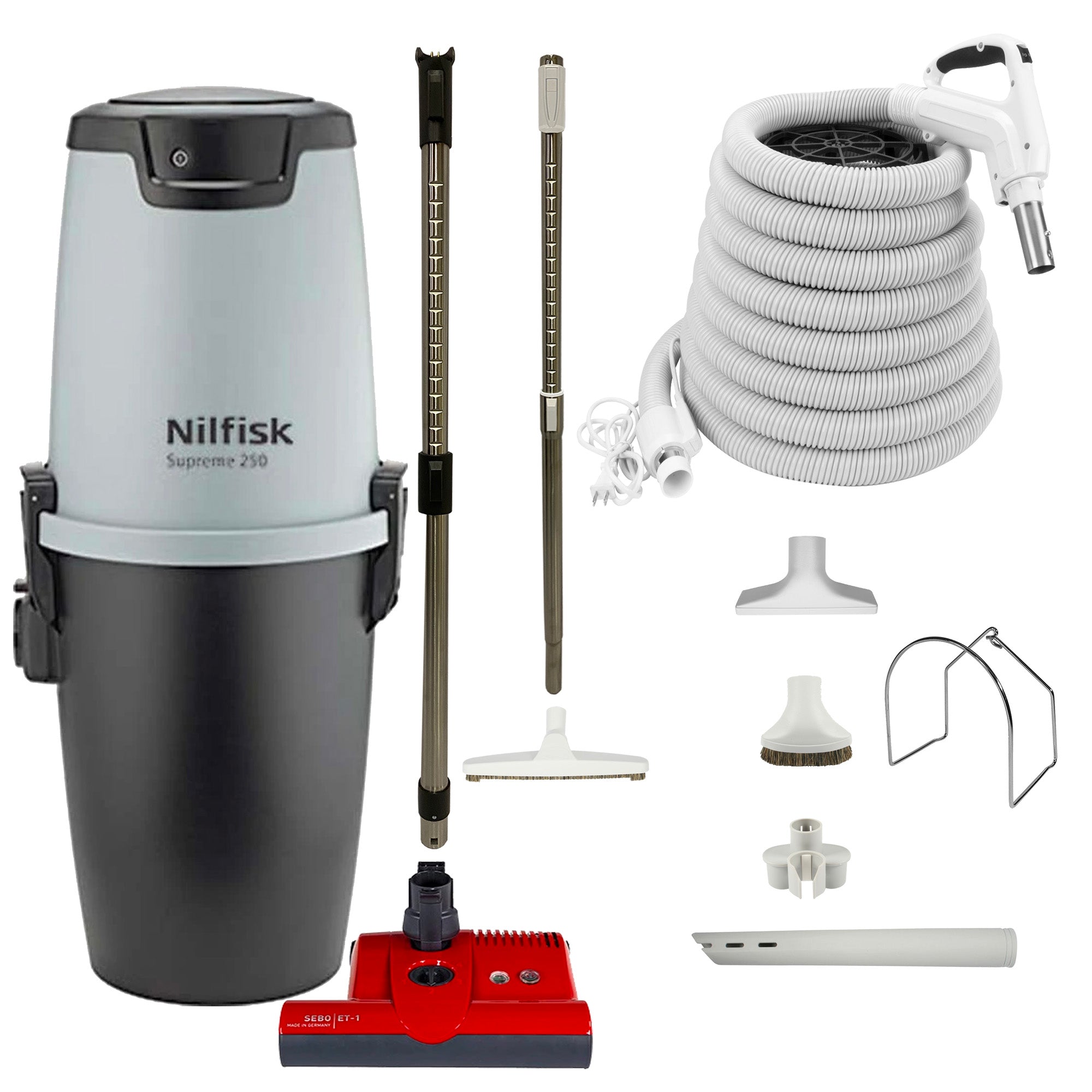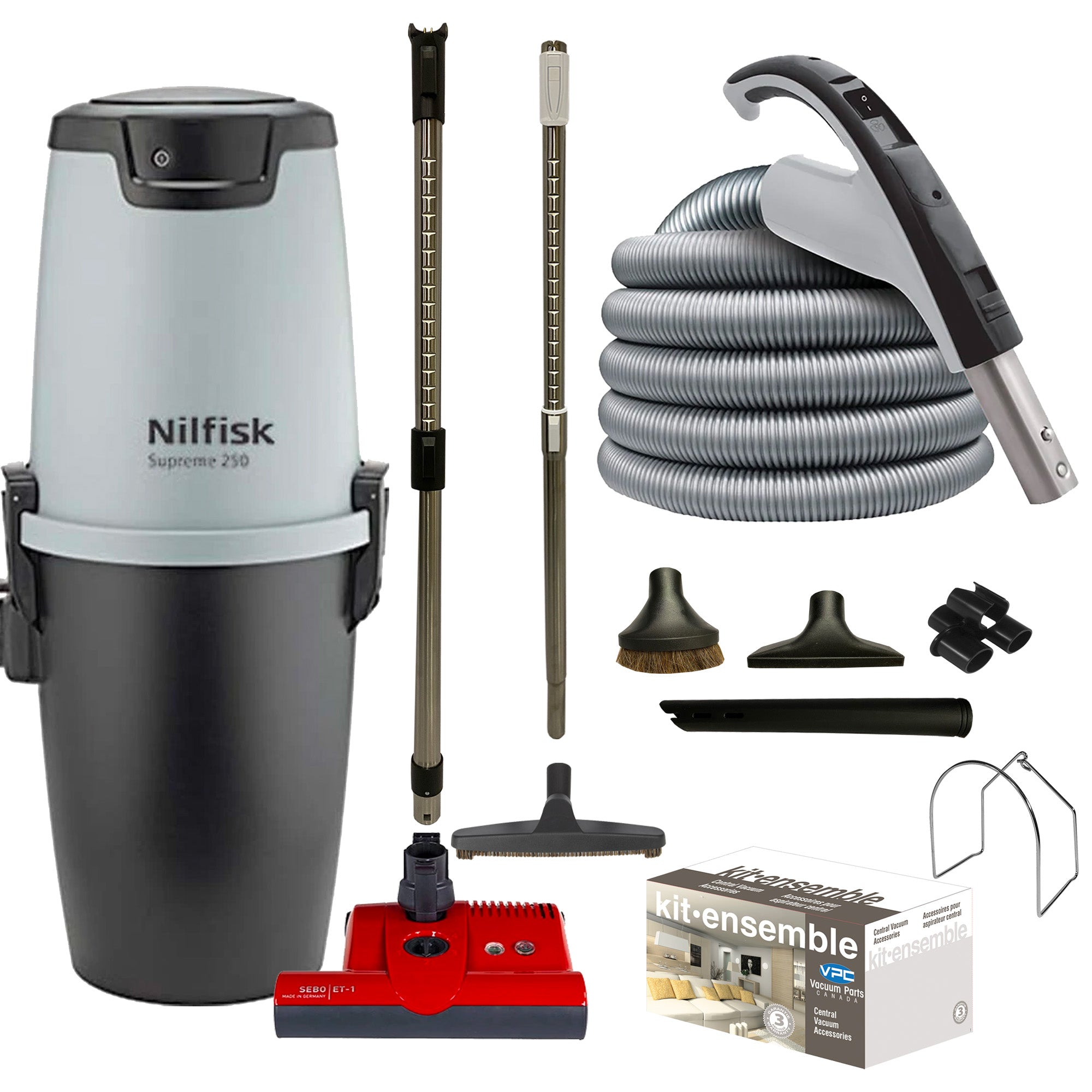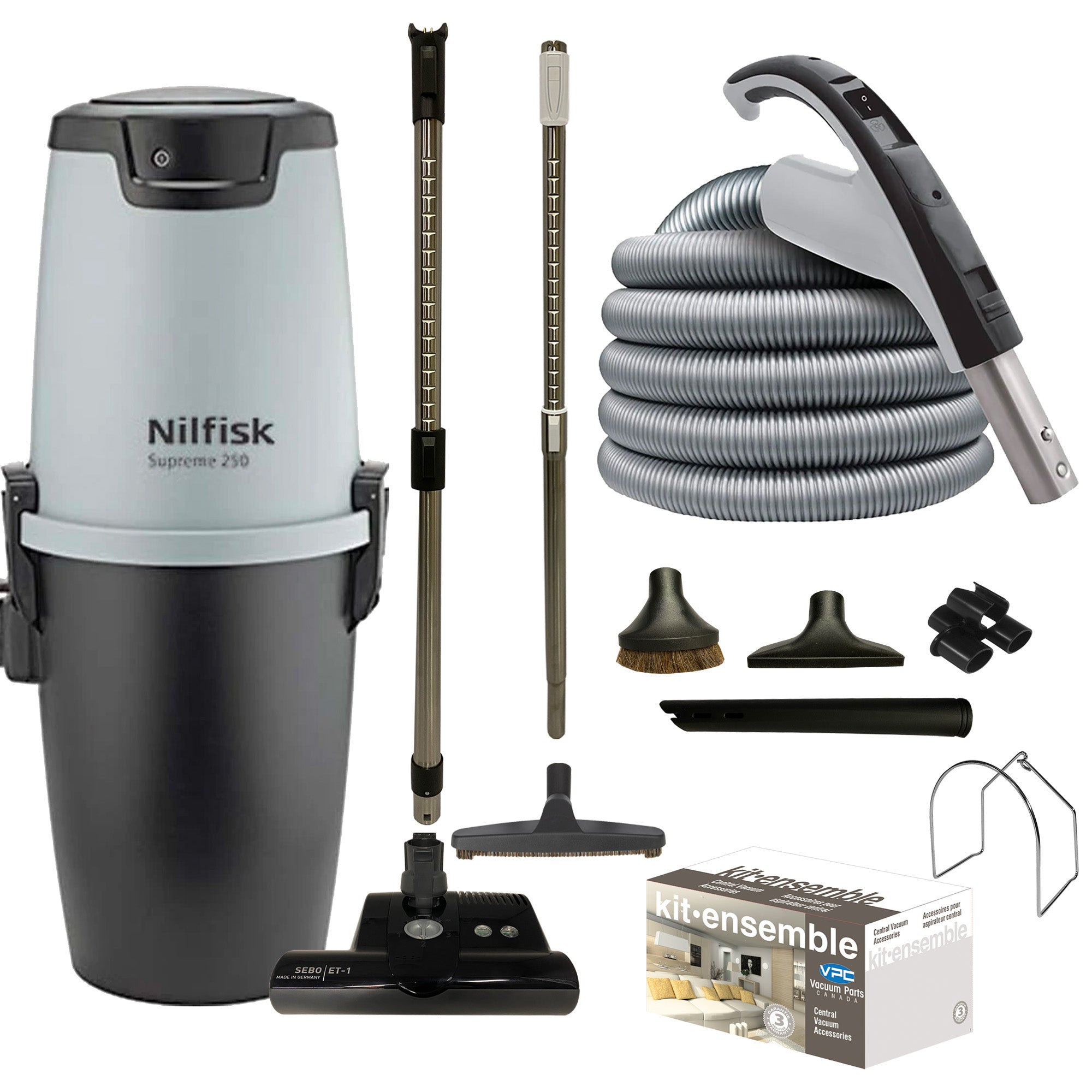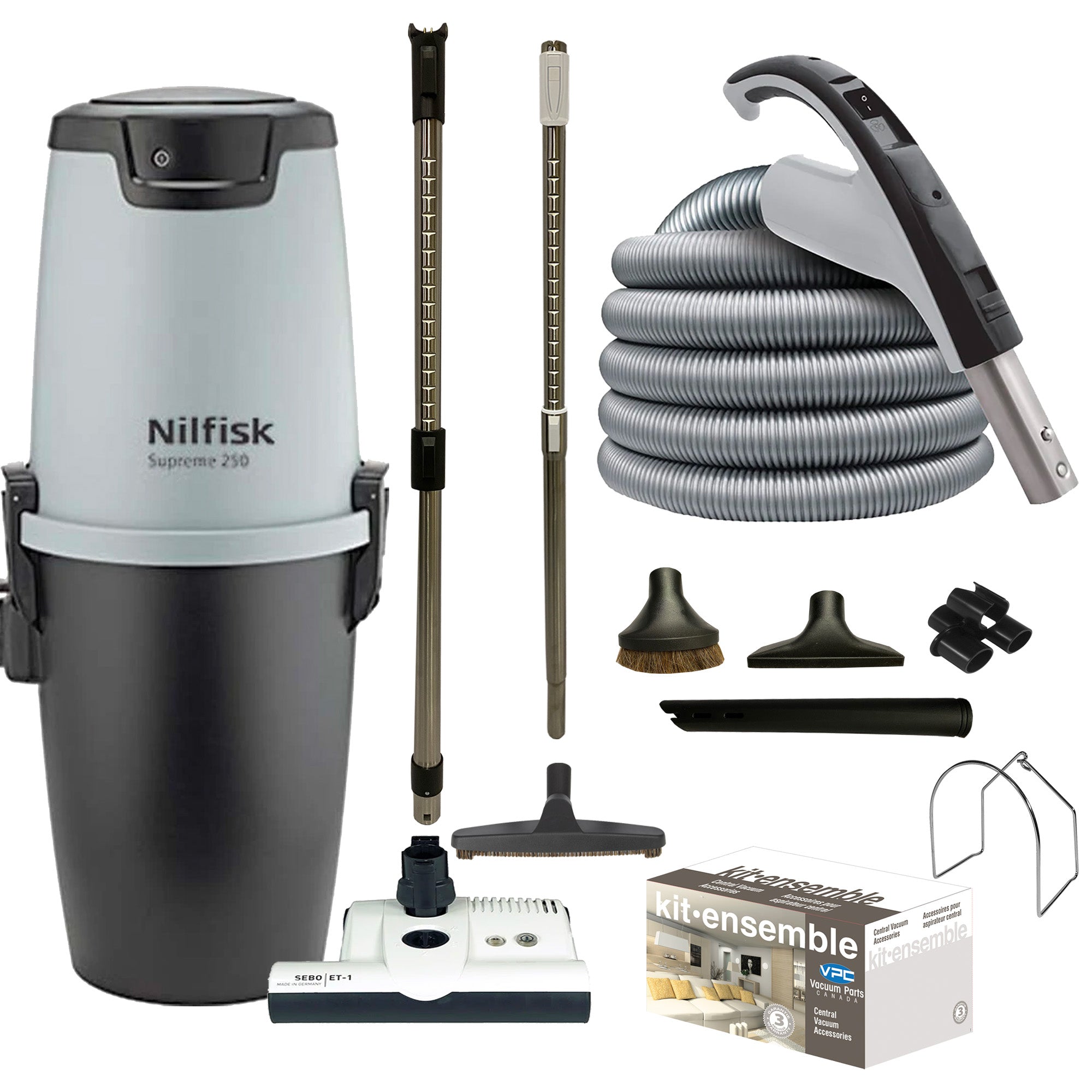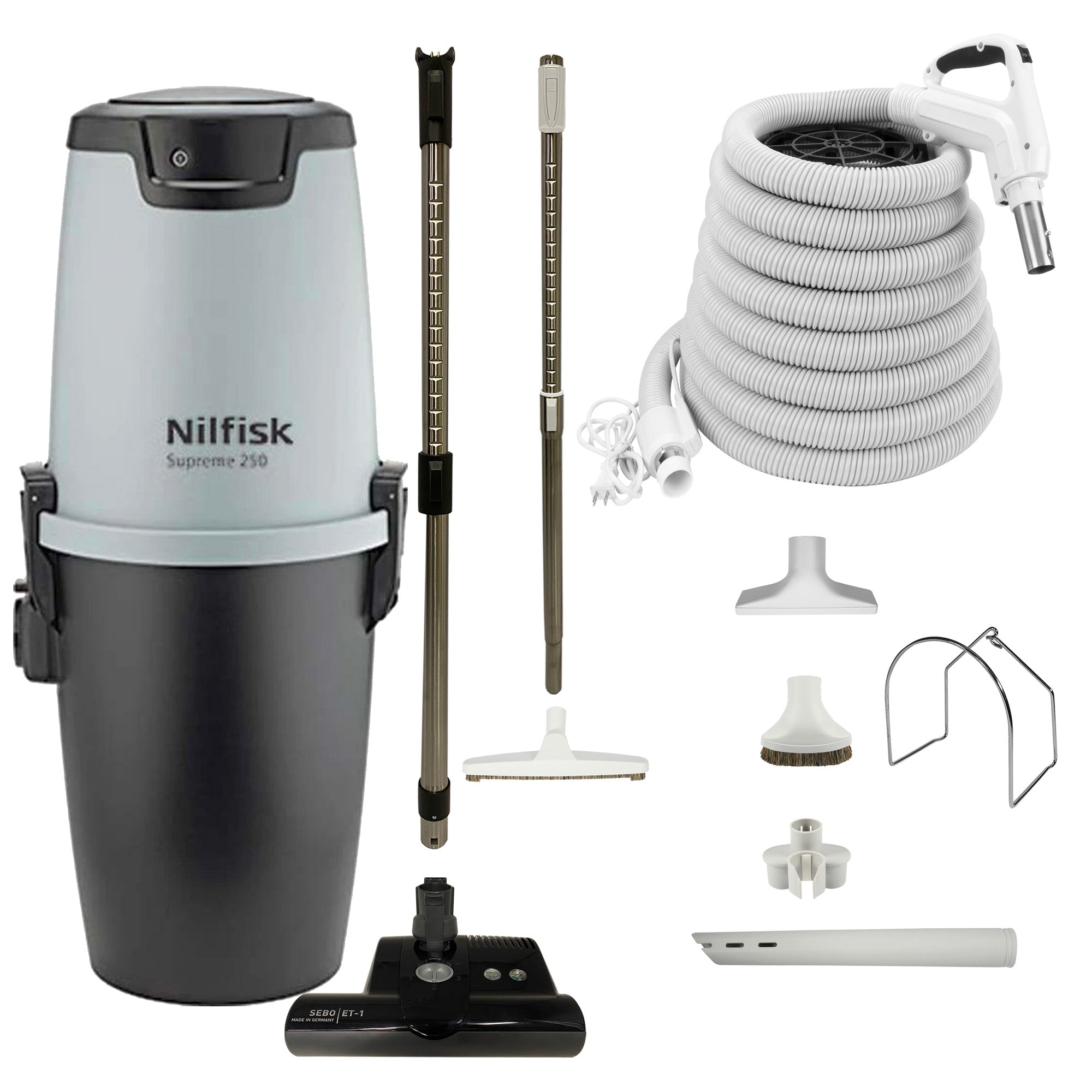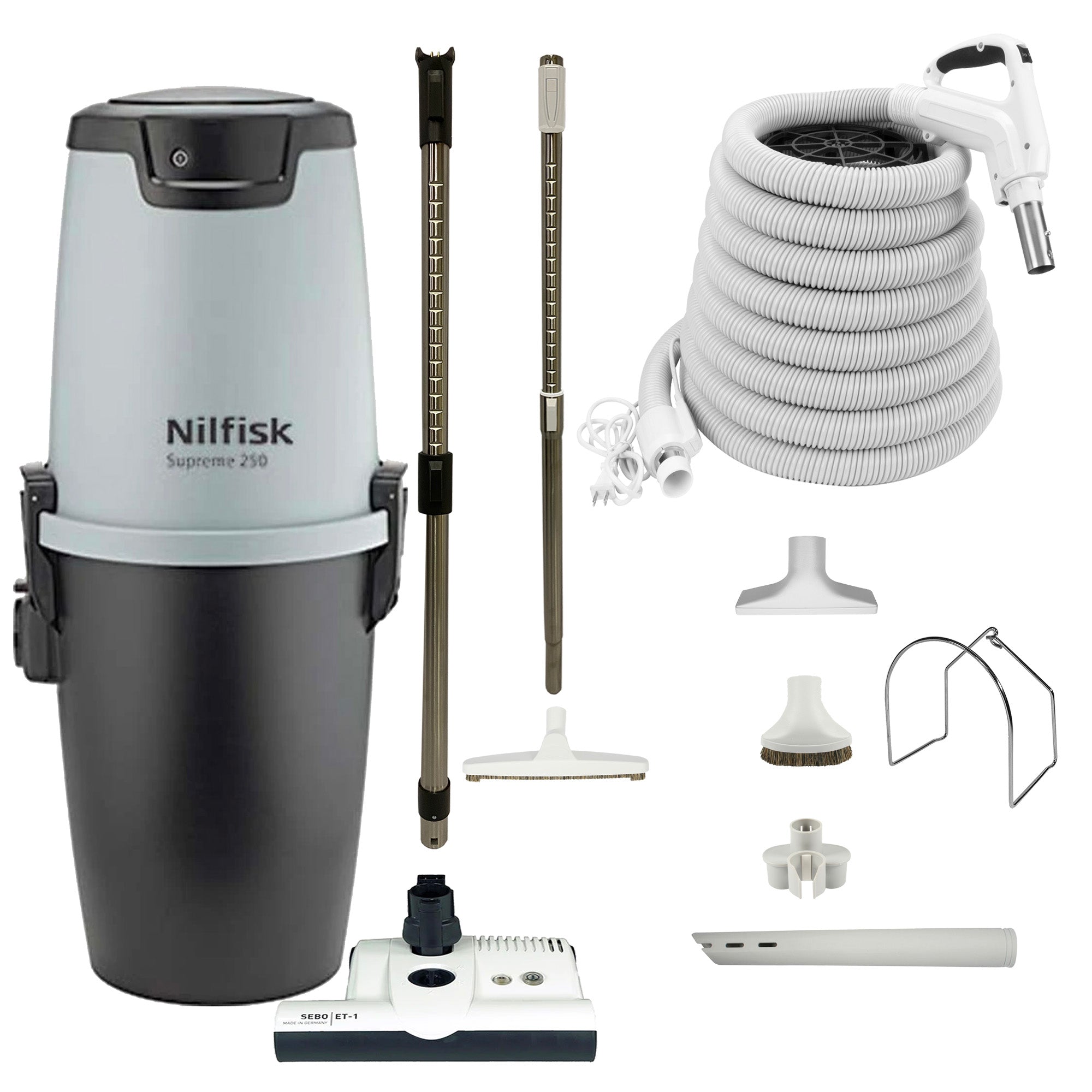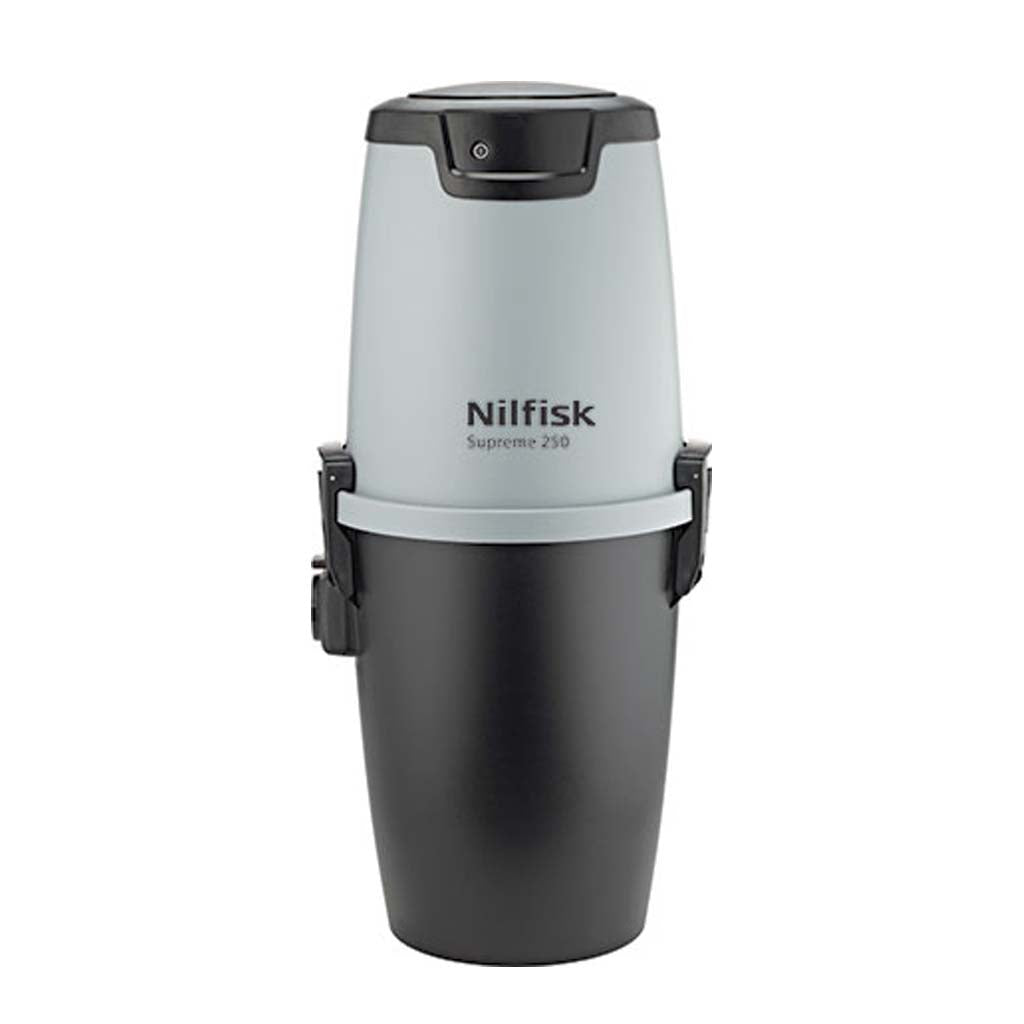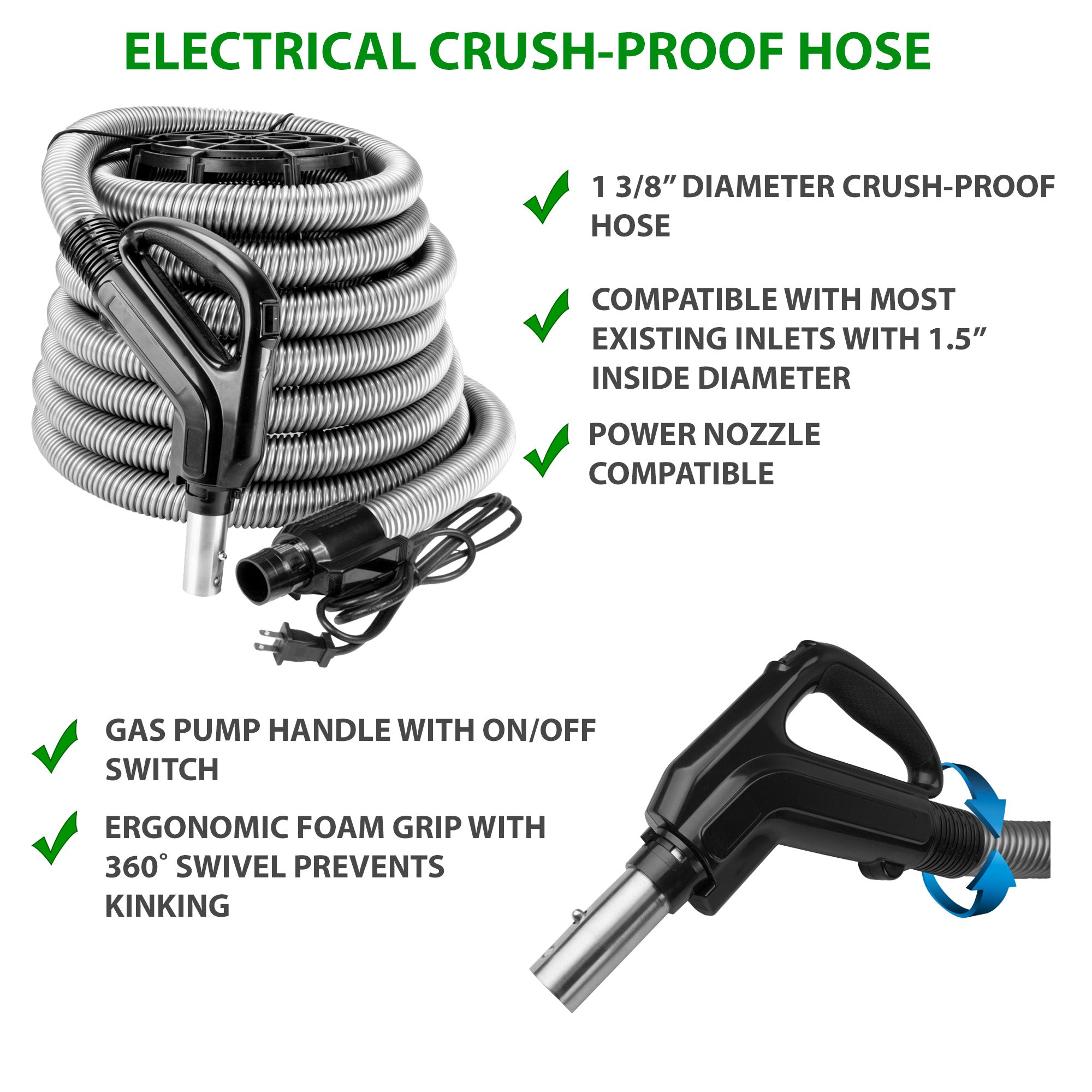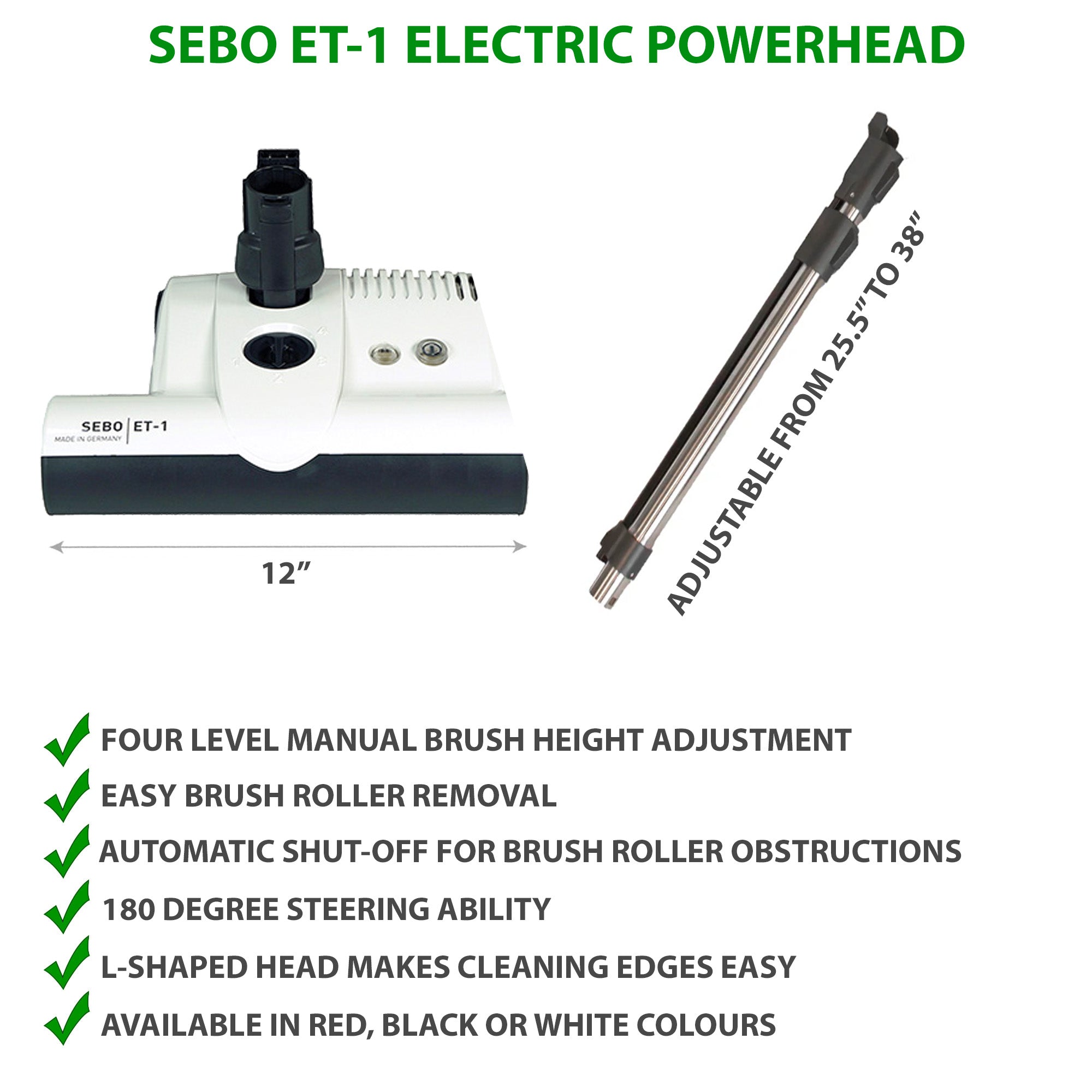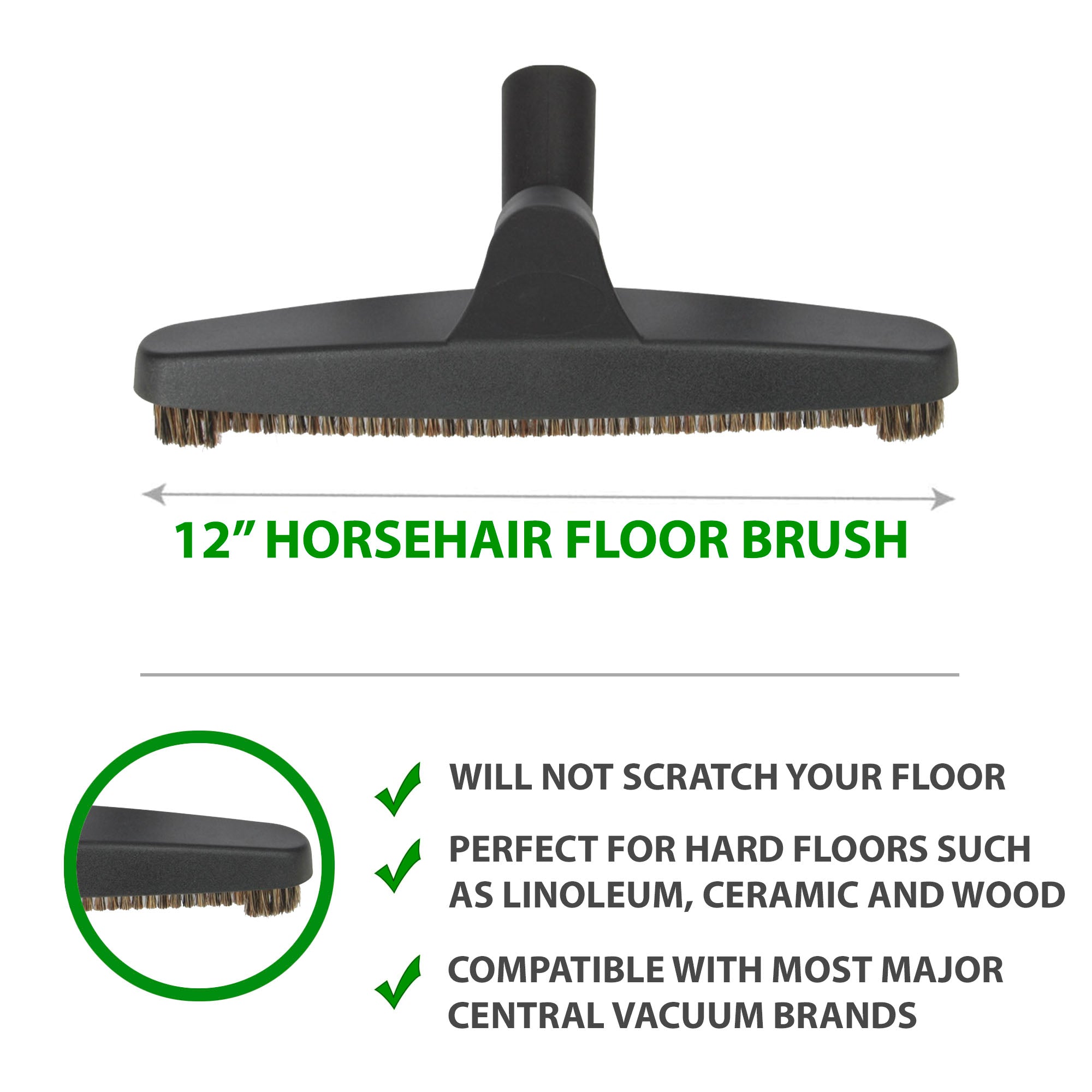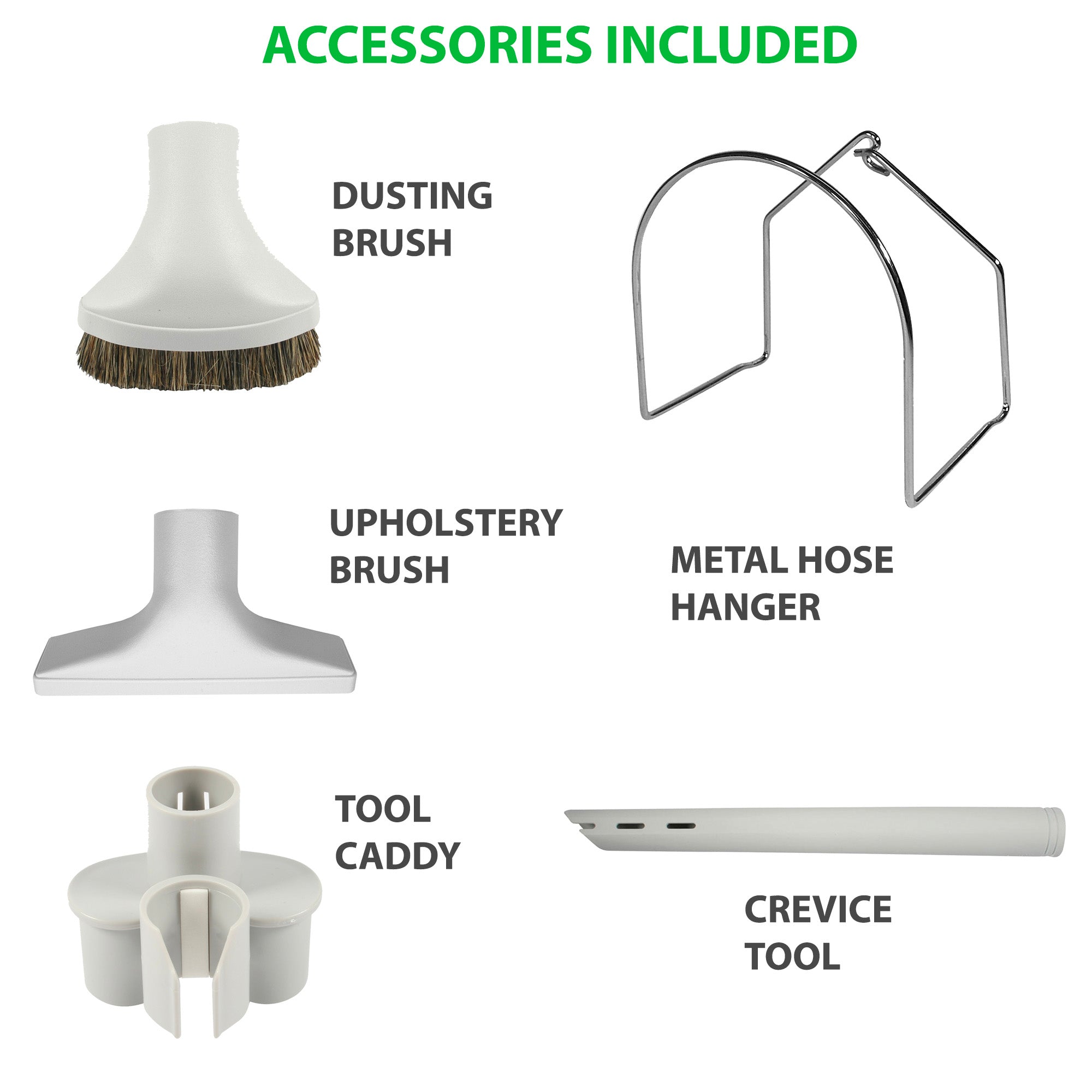 Nilfisk Supreme 250 Central Vacuum with SEBO Premium Electric Kit
SKU: Nilfisk250PE30B-B
---
Nilfisk Supreme 250 Central Vacuum with SEBO Premium Electric Kit
Imagine a vacuum cleaner that is easy to use, highly efficient and almost silent; one that you don't have to carry upstairs; won't bump into the furniture or walls, get stuck in corners and that expels its exhaust air outdoors or quietly indoors with the HEPA exhaust muffler. It does exist! the Nilfisk central vacuum cleaner.

The Supreme 250 is compact in size yet boasts a full size dirt receptacle and up to 20% better end of hose performance than the competition. Powerful, quiet, HEPA filter and 15 year warranty add up to the best value on the market.
Specifications
| | |
| --- | --- |
| Airwatts: | 684 |
| Air Flow: | 121.9 CFM |
| Water Lift: | 121.7" |
| Voltage: | 120 |
| Noise Level: | 66.5 dB |
| Bag Capacity: | 6.7 gal |
| Amps: | 14.2 |
| Average Motor Brush Life: | 1200 hrs |
| Motor Warranty: | 15 year |
| Dimensions: | 32" x 14" x 16" |
| Weight: | 14.5 lbs |
SEBO Premium Electric Kit
The German made SEBO ET-1 power head in this central vacuum attachment kit is a 5 STAR.  This set is a must for those who live in a home that has demanding cleaning needs.  Have high traffic from pets, kids or lots of extended family running around?  This package includes one of the most durable and easy to maintain electric power nozzles made today.  This nozzle has multiple height settings for more efficient cleaning of different carpet types.  Driven by a non-slip belt, you can be confident that the power won't decrease as time goes on.  This also prevents the belts from breaking should you accidentally pick up something like a shoe string or those missing socks from under the bed.  Speaking of under the beds, this package contains a pair of telescoping wands that you can adjust for that perfect length.  One for the power nozzle and the other for the other attachments which make it quicker to switch from carpet to bare floor cleaning.
The 30' light weight hose will provide the perfect reach for a proper rough-in. This hose gives you the ability to switch on your central vacuum (all brands) as well as being able to turn off the power brush while still sucking.  This feature makes it easy to clean the edges of area rugs or it provides a gentle clean for those delicate carpets that don't need agitation.
The supplied attachments are all rubberized so that they are less prone to breaking as they are more flexible.  The floor brush is 12 inches wide which seems to be the ideal size for most homes.  It's wide enough for the open areas but not too wide for cleaning in and around furniture.  Also included is a dusting brush, upholstery brush, upholstery tool and extra-long crevice tool.  These attachments can easily be used with the second telescoping wand.
Key Features
30' or 35' electrified hose with 3 way switch for activating the vacuum and power brush
Quiet non-slip belt
Tool free access to roller for cleaning
Clean out port on base carpet head
Multi-level height adjustment on power brush
Hose is light weight and crush proof
Ideal for homes with mix of carpet and bare floor
12" floor brush made of natural hair
10 year parts warranty and 5 years on labour
Supplied Accessories
Swivel-neck power brush with multi-level height adjustment
12" wide delicate floor brush
Rubberized dusting brush, upholstery tool and extra-long crevice tool
Durable 30' crush proof hose
2 telescopic metal wands
Tool caddy
Hose hanger
Warranty
Lifetime warranty on the Power Unit
Nilfisk Consumer Products warrants all central vacuum power unit bodies to be free from original defects in design, materials, and workmanship for the lifetime of the original consumer. The unit is designed, engineered, and molded in Sweden. We use Italian made Ametek motors, German made control panels, and Swedish filters. These are assembled in Hungary by a Danish company. Completely European!
10 Year warranty on the electrics, 10 and 15 year warranty on the motor
The motor on Supreme 100 and Supreme 150 and all model electrical controls are warranted for a period of ten (10) years from date of purchase. Motors on Supreme 250 and Supreme LCD are warranted for a period of fifteen (15) years. Defective parts will be repaired or replaced at the sole discretion of Nilfisk Consumer Products. Repaired or replacement parts shall assume the identity of the original for the purposes of this warranty.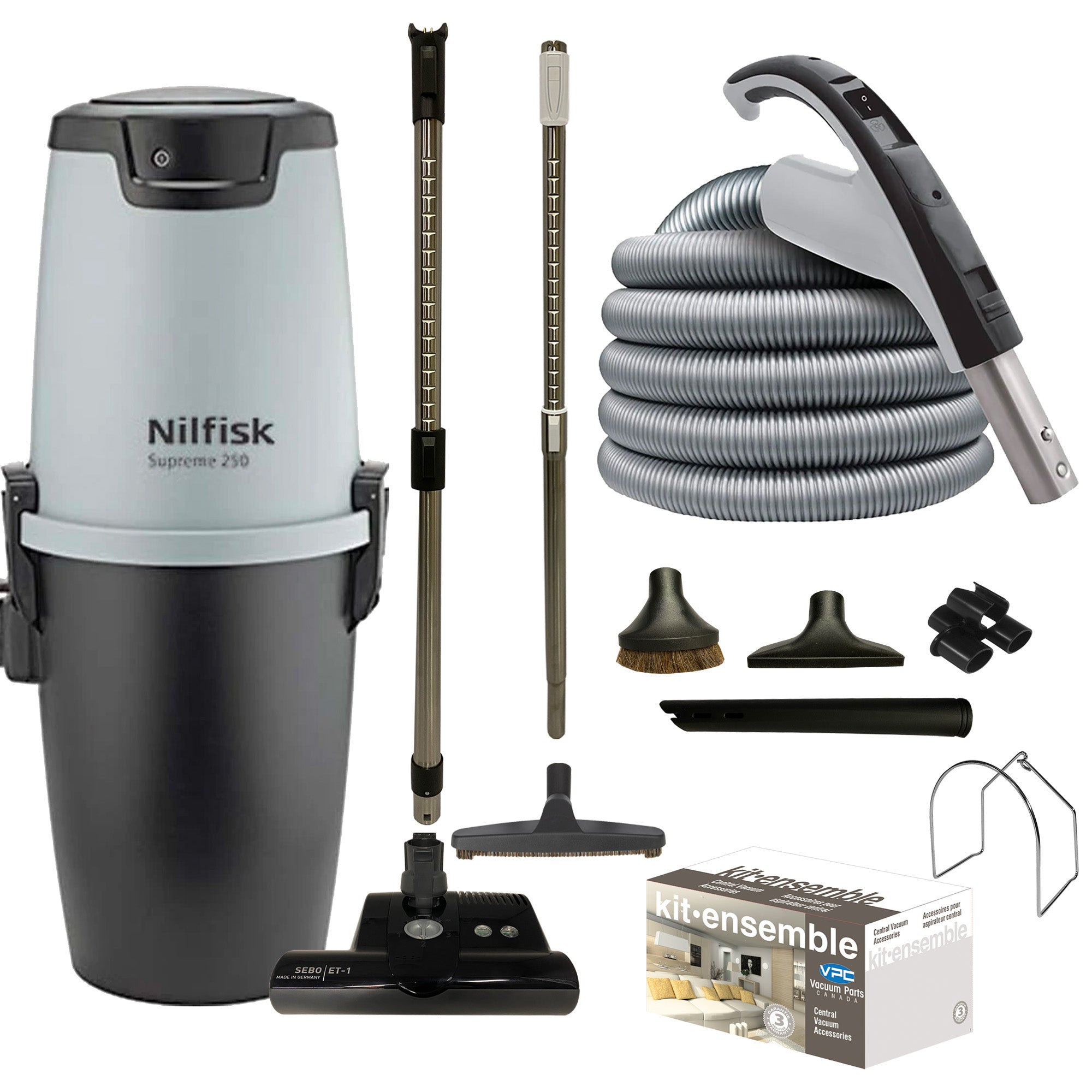 This product is rated 5.0 of 5.0 stars.
It has received 2 reviews.
NILFISK 250 with Sebo head.
Some products took some additional time.
we all tend to forget the problems with the supply chain when ordering, I did.
We have now received the full order and everything seems complete.
thanks Vacuum Parts Canada. I will definitely order from you again.
Nilfisk Supreme 250 Central Vacuum
Excellent vacuum, great customer service